How the Kardashians Became America's Most Influential Trendsetters
Whether you love them or hate them, the one thing you absolutely cannot do is ignore them (no matter how hard you try).
The Kardashian family – "Momager" Kris along with her daughters Kim, Khloe, Kourtney, Kendall, and Kylie – have been the textbook definition of "famous-for-being-famous" for over a decade.
In this article:
But how, exactly, did they get to where they are today? well, it didn't happen overnight. Their origin story dates all the way back to the 1990s, with many surprising twists and turns along the way.
The Origins of the Kardashian Name
Robert Kardashian (father of Kim, Khloe, Kourtney, and Rob Jr.) was a well-known, successful businessman and attorney in Southern California. He was also friends with athlete and alleged murderer OJ Simpson.
As a matter of fact, the Kardashian name first swept the general public consciousness when Robert decided to become a member of OJ's defense team during the 1995 murder trial. Robert – in addition to the other lawyers on the team – eventually got OJ acquitted at the end of the long and highly publicized trial. The verdict remains highly controversial to this day.
Eight years later during the summer of 2003, Robert was diagnosed with esophageal cancer. He passed away five months later from the disease in September.
He was only 59 years old at the time, a tragically premature and sudden death which would send any 20-something through a serious emotional loop of grief and loss. But the Kardashians persevered, and Kim herself started making strides in the fashion & beauty industry.
Kim got her first big break in 2004 when pop music sensation Brandy hired her as her personal stylist. It's also highly likely that during this time she first met R&B singer Ray J, her future boyfriend and adult film co-star.
Getting her foot in the door with Brandy helped Kim gain access to other celebrities who were in need of some serious fashion advice, like Paris Hilton. Once Kim started working for the celebutante, the two became fast friends.
2006 was a busy year for Kim. She started spending more and more time in front of the camera as opposed to making the already rich and famous look good from behind the scenes.
Kim also made several small appearances on Paris Hilton and Nicole Richie's The Simple Life, and went on to play a minor role on the show Beyond the Break.
Kim also announced in the same year that she was going to open up her own clothing store, Dash, with her two sisters Kourtney and Khloe. In the years leading up to the birth of Dash, Kim made a decent chunk of pocket change by raiding the closets of her famous friends/clients and selling their old, unwanted garments on auction sites like eBay (which sounds vaguely like the plot of Netflix's short-lived and highly underrated Girl Boss).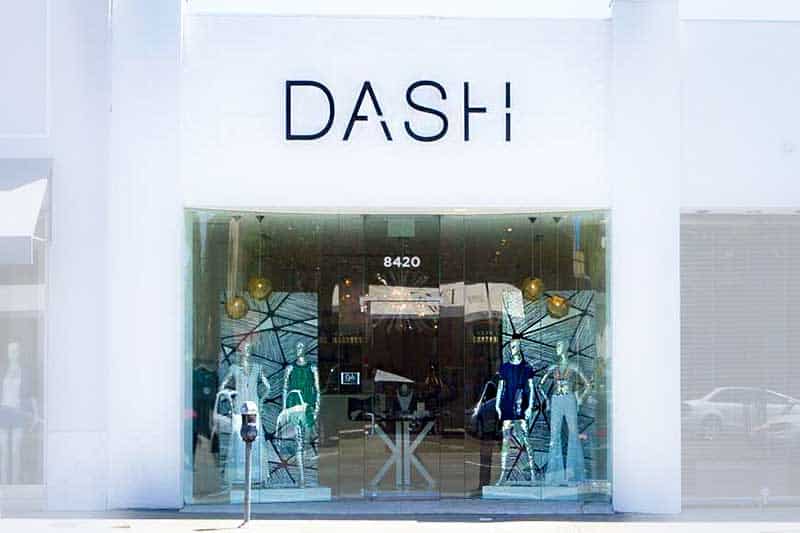 The switch from private, online auctions to a local boutique was a bold one indeed. But it paid off.
The following year was a tumultuous one for Kim with the 2007 release of her sex tape with R&B singer Ray J. Although she attempted to sue in order to keep the tape a secret, Kim Kardashian, Superstar took the industry by storm after a $5 million settlement.
Eight months later, the Kardashians collaborated with E! To create and debut the Keeping Up With The Kardashians reality show. Kim also rounded out the year by embracing her new status as a sex symbol and posing for Playboy magazine.
Between 2008 and 2011, the Kardashian sisters experimented with many other products, shows, and various cash-grabs, including:
Fitness – Kim released a series of workout DVDs called Fit in Your Jeans by Friday (a series which would give most people alcohol poisoning if they took a drink every time someone said the word "butt")
Perfume – Kim released three fragrances during this time. First there was "Kim Kardashian", then "Gold", and finally a limited edition fragrance called "Kim Kardashian Love", which was meant to celebrate her (short-lived) marriage to professional basketball player Chris Humphreys
Television – KUWTK exploded with such popularity that it yielded two spinoffs featuring her and her sister Kourtney: Kim and Kourtney Take Miami and Kim and Kourtney Take New York.
Miscellaneous Entertainment Projects – Kim dabbled in a few other (and mostly glossed over) spotlight projects during these years. These included a small cameo in the porn-y rom-com Deep in the Valley; a critically panned pop single "Jam (Turn it Up)" which ended up donating some of its proceeds to St. Jude Children's Hospital; and Kim even made a personal appearance at the grand unveiling of her own wax figure at Madame Tussauds.
But the Kardashian fame grew even more once the sisters jumped on the Instagram bandwagon.
Instagram, the Kardashians, and the Influence of Social Media
The Kardashians/Jenners have a symbiotic relationship with social media – and Instagram in particular – which is so strong that they're as dependant on one another as conjoined twins. Separating one from the other would probably kill them both (metaphorically speaking, at least).
As of today, Kim Kardashian's Instagram account is #2 most followed account on Instagram. The official Instagram account is #1. The two most popular photos on the platform belong to Kim and her little sister Kendall at 2.4 and 2.6 million likes, respectively. And that's just the tip of the iceberg.
Many would love to argue that social media doesn't make that big of a difference in the lives of everyday people. But that begs the question: why were so many young women sucking their lips through shot glasses (and some hurting themselves in the process) in order to mimic Kylie Jenner's full lip transformation?
In reality, the young starlet altered her look with plastic surgery. But she didn't want to own up to it at first. Her insistence that her suddenly plumper lips were "natural" had fans scrambling for an answer – and the #KylieJennerChallenge was born. It spread like wildfire among her fans.
Thankfully, she eventually came clean once she realized the girls were physically hurting themselves in order to achieve the standard of beauty that she was projecting out into the world. But that's only one example of the massive impact the social media influence of the Kardashians has made on people's lives – for better or for worse.
For anyone who still believes that only a minority of gullible people even listen to what the Kardashians say and do on social media, we have one thing to say: follow the money.
Depending on the Kardashian and the company, a sponsored tweet can earn them anywhere from $13,000 to a cool six-figure payday. That's upwards of $715 per letter for saying something nice about the right product.
If the Kardashians weren't capable of selling a product and making these companies a ton of money, these businesses wouldn't be shelling out so much cash in order to capitalize on the Kardashian influence.
That's just how business works.
Right or Wrong, the Kardashians May Be Here to Stay
Whether anybody likes it or not, it doesn't look like the Kardashians are going to disappear from the spotlight anytime soon.
They have power and influence over social media that defies the conventional norms of stardom. And they're making millions – if not billions – maximizing that influence for profit.
The only way their fame and fortune could ever dry up is if people stopped caring about beauty, fashion, and their status in society as a whole. So if you're eagerly awaiting the collapse of the Kardashian Empire, well…don't hold your breath. It's probably going to be a while.