Revision's Intellishade Original Age-Defying Tinted Moisturizer with Sunscreen
Revision's latest favorite product claims to do it all, and with style! Fight wrinkles, correct skin color, and protect from the sun, all with one easy application.
Revision Intellishade Original Moisturizer Overview
This intelligent moisturizing product by Revision is not just popular with consumers, but is award-winning as well. In 2017, Revision Intellishade claimed the NEWBEAUTY® Award for "Best Makeup that Doubles as SPF". This moisturizer claims to do much more than just soften skin, which is difficult enough to do correctly, safely, and ecologically. It is said to offer multiple peptides alongside wrinkle reducers and organic compounds to even the skin's appearance and tone, all while providing protection from a broad spectrum of the sun's harsh UV-A and UV-B rays. That's a whole lot to ask from one little tube. Can this mini-miracle really deliver?
A Closer Look at Revision Intellishade Original Moisturizer
Revision knows what we need, and what we want to hear. It has all of the necessities packed into one little container, emphasis on little. While the white-background photo makes it seem like the product could be the size of a standard bottle of lotion, it is actually far smaller: less than two ounces. While that is handy for to-go products that are tossed in a bag and carried around for reapplication throughout the day, that is rather small for a daily facial moisturizer and sunscreen, both of which should be applied liberally, not sparingly.
Size aside, the ingredient list reads rather standard for most moisturizers with sunscreen. The active ingredients are all UV protectors (more on those in a moment), and the inactive ingredients are where the beauty boosts hide. Those are in the form of peptides and extracts, which are generally helpful and safe when it comes to wrinkle prevention and reduction. They also help to correct skin color, conceal blemishes, and brighten tone in general.
SPF is the most crucial part of any daily skincare regimen.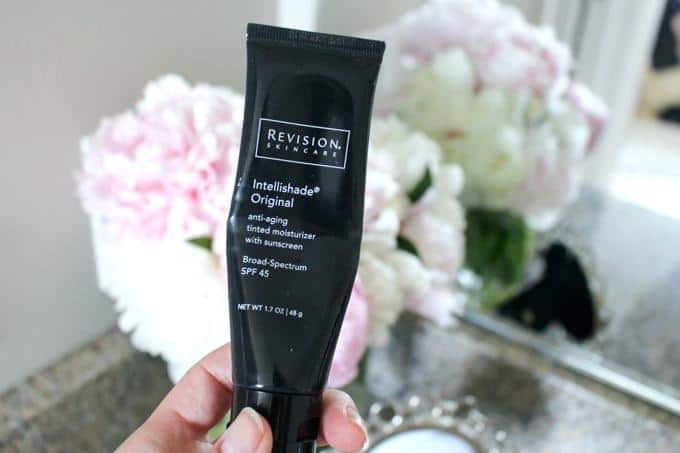 The notable difference with Revision's darling here is the tint. It is offered in shades of "Original", "Matte", or "TruPhysical", with the explanation that Original "provides a more moisturizing feel" while Matte feels lighter and is preferred in humid months. The "TruPhysical" version claims to set itself apart not by aesthetics, but rather in the revised ingredient list, which replaces the standard sun protectors with all-mineral ingredients. For the purposes of this article, we are focusing on the Original version.
Positives
Hydrates skin with powerful moisturizers
Reduces the look of wrinkles and lines
Blends with skin for tone correction and evenness
Negatives
Primary active ingredient potentially carries chance for toxicity
Reproductive and developmental risks
Expensive per ounce
Some customers report skin and clothing staining from tint
Questionable quality when not ordered directly from Revision
Revision Intellishade Active Ingredients
Some selections from the ingredient list shine for their efficacy and skin protective properties, while others are dulled by scary potential side effects. All of the active ingredients listed are sun protectors, giving weight to the SPF claims on the label. However, the chosen UV protectors are less than ideal, despite being common, and have some potentially problematic side effects. Also included are some expected extracts and stabilizers.
Octinoxate
Also commonly called Parsol or Parsol MCX, Octinoxate is most commonly used as a UV filter. It works specifically on UV-B rays, and does not provide any protection from UV-A rays, so it is best used in conjunction with a UV-A filter as well. There is some concern over potential toxicity, as this compound can be an endocrine disruptor. That means it can mimic estrogen in the human body, and interrupt thyroid function. The thyroid regulates all systems in the body. Yet, this compound is approved world-wide as long as it is noted as active on the product label.
Octisalate
This compound is an ingredient used in sunscreens and cosmetics to provide UV-B protection. Octisalate absorbs ultraviolet light and protects the skin from the harmful effects of the sun. However, it is also an excellent penetrator, and can dive deep under the outer layer of the skin and into the dermis, carrying other ingredients along for the ride. As though this isn't concerning enough, one of the primary ingredients in making this compound (Salicylic Acid) has been shown to harm reproductive and developmental systems. The Cosmetic Ingredient Review board claims that the exposure is negligible and will not cause adverse reactions, but it is important to be aware of nonetheless.
Cyclopentasiloxane
In most beauty products, this silicone is used as a conditioner and lubricant. It is also a good solvent for carrying other ingredients. Being a silicone, it provides that silky feeling we all love on our skin. It is slightly water-repellant, making it a helpful addition to a sunscreen, and also can fill in some fine lines and wrinkles, giving a temporarily plump or younger-looking appearance. While safe for humans, it has been considered a concern for marine life and should not come in contact with them.
Boron Nitride
Essentially, this chemical is a real-world version of Mystique from X-men, or as close as science can get right now. Boron Nitride is a polymorphic chemical, meaning that it can diffuse and scatter light. This creates a shimmery or translucent appearance on skin. It also adheres to the skin extremely well, making it an ideal additive for many cosmetics. As a cherry on top, it can also absorb excess oil on the skin's surface and even out pigment. It is widely considered nontoxic and non-threatening, with a wealth of scientific study to back up those claims.
Full List of Ingredients
Active Ingredients: Octinoxate 7.5%, Octisalate 5%, Titanium Dioxide 3.5%, Zinc Oxide 3%.
Inactive Ingredients: Water (Aqua), Cyclopentasiloxane, Jojoba Esters, Caprylic/Capric Triglyceride, Ethylhexyl Stearate, Cetyl PEG/PPG-10/1 Dimethicone, Hexyl Laurate, Polyglyceryl-4 Isostearate, Hydrogenated Starch Hydrolysate, Glycerin, Butylene Glycol, Cetyl Dimethicone, Aloe Barbadensis Leaf Juice, Betula Alba (White Birch) Bark Extract, Camellia Sinensis (Green Tea) Leaf Extract, Plankton Extract, Beeswax, Dimethicone, Squalane, Tocopheryl Acetate, Tetrahexyldecyl Ascorbate, Tocopherol, Palmitoyl Tripeptide-5, Hydrogenated Castor Oil, Lecithin, Palmitoyl Dipeptide-5 Diaminobutyroyl Hydroxythreonine, Glyceryl Caprylate, Tetradecyl Aminobutyroylvalylaminobutyric Urea Trifluoroacetate, Yeast Extract (Faex), Boron Nitride, Epigallocatechin Gallate, Ubiquinone, Jojoba Bean Meal, Sodium Chloride, Phenoxyethanol, Glyceryl Isostearate, Chlorphenesin, Polyhydroxystearic Acid, Xanthan Gum, Magnesium Chloride, Benzoic Acid, Sorbic Acid, Iron Oxides.
Directions: How to Use Revision's Intellishade Original Moisturizer
Begin your daily skin routine with a gentle facial wash using warm water and mild soap. Liberally apply Revision's Intellishade Original Tinted Moisturizer with Sunscreen to your face, paying special attention to the most problematic areas. Massage gently into skin until smooth and even tone is achieved. It can be worn under makeup and with additional Vitamin C lotion for fuller antioxidant benefits.
The Final Word on Revision's Intellishade Original Moisturizer
While Revision has made a good moisturizer and excellent cosmetic, the sunscreen aspect of this product has a few causes for concern. There is powerful SPF protection, but the highest concentration of ingredients are the ones with the worrying potential for effects. This is an all-in-one that may have benefited from being a two-in-one instead, as the whole is not really greater than the sum of its parts.
If you are interested in more wrinkle articles or want to know what our highest rated recommendations are, check out the chart below!
What's better than Intellishade?
Click Here
to See Our Top Rated Product
Advertising
Information researched for this content entails an unbiased opinion based on product specifications, overviews, and product information. If for any reason you think some of the information is not accurate, please feel free to contact us. We strive to bring only the most up to date facts so our readers are always correctly informed. Any trademarks, service-marks, and registered trademarks on our site are strictly the property of their respective owners.
Please be aware that the review charts do not encompass all available products on the market, but do comprise of some that we promote as affiliates. Also please note that in full compliance with FTC guidelines, you may assume that all links related to our review chart are considered an affiliate link and we may receive compensation for clicking on those links and making a purchase. However, it is extremely important for our readers to know that all editorial content disclosed on this page is written without any bias or prejudice regardless of affiliate associations or sponsorship. The opinions you read are strictly our own and we are independently owned as well.