Pond's Rejuveness Anti-Wrinkle Cream
By harnessing the rejuvenating power of lactic acid, Pond's hopes to make a big splash in the battle against aging.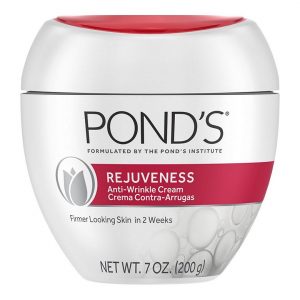 Pond's Rejuveness Anti-Wrinkle Cream Overview
Pond's Rejuveness Anti-Wrinkle Cream is formulated with an Alpha Hydroxy Acid (AHA) and collagen, and claims to be able to smooth fine lines and wrinkles in as little as two weeks with morning and evening applications. Pond's recommends this product for use as either a preventative measure before the formation of wrinkles, or after wrinkles have already formed to lessen the unwanted aging sign. As this formula is infused with Vitamin E and moisturizers, it is acceptable to use every day. It is available at most large retailers, and online.
A Closer Look at Pond's Rejuveness Anti-Wrinkle Cream
Alpha Hydroxy Acids are having a surge of popularity in the anti-wrinkle movement as a popular way to slough off dead skin gently, exposing the new skin beneath. The AHA in Pond's is lactic acid, an organic acid occurring naturally in sour milk. It can also be manufactured in a lab. AHAs penetrate down into past the outer layer of the skin into the dermis, where the living, growing new cells are being made. There, they can strengthen and promote skin thickness from within.
While AHAs are a fantastic weapon against aging, no one ingredient is best on its own. Many AHAs benefit a great deal from being coupled with other wrinkle-fighters. Popular inclusions here are generally things like Retinol (a Vitamin A derivative) or Hyaluronic Acid. Pond's does not contain either of these, or another anti-wrinkle agent at all. That doesn't mean it is ineffective, though; it simply isn't as powerful and fast-acting as it could potentially be.


AHAs can come from many natural sources including: sugar cane, sour milk, apples, citrus fruits, and grape wine.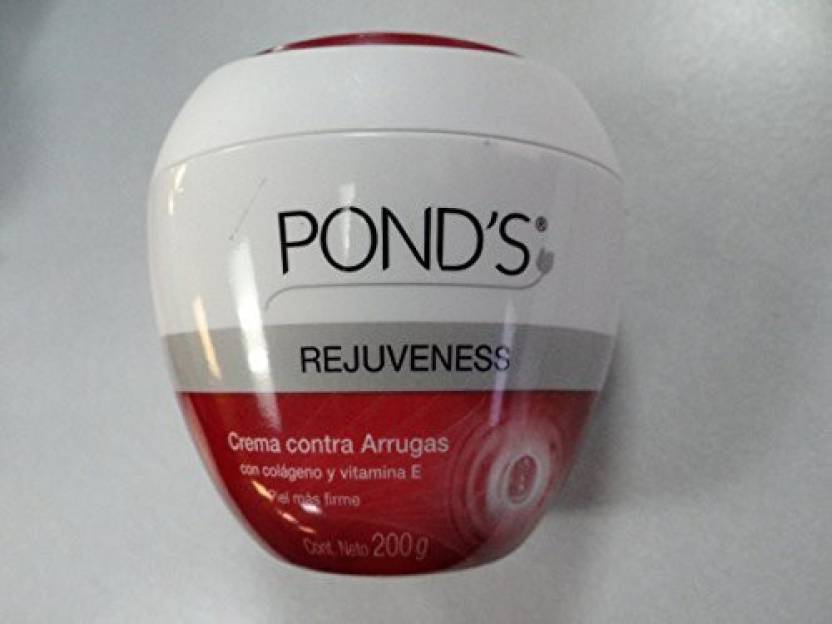 There is no mention of studies done on this particular Pond's product, but the brand name is over a century old and well-trusted. It is a readily available product, on store shelves practically everywhere. Pond's claims that a jar of their product is sold "every ten seconds", which (if true) would make it one of the most utilized anti-agers in the world.
Positives
Widely available
Inexpensive
Hypoallergenic
Negatives
Contains parabens
May increase skin sensitivity to the sun
Can clog pores and irritate acne
Only contains one wrinkle-fighter
Customer reviews describe a "horrible smell"
Active Ingredients
The lactic acid in this formula acts as the Alpha Hydroxy Acid and is second on the ingredient list, meaning it is the second most prevalent item in the mixture. But it is far from the only one, as a quick glance will show. There are several other ingredients, some of which have potential side effects that might outweigh the benefit of a single anti-wrinkle ingredient.
Butylene Glycol
While this corn-derived alcohol is clear and odorless, it is still a known potential irritant for human skin, whether sensitive or not. It is used mainly to dissolve mineral oils and extracts in a water-based solution, such as cosmetic creams and fragrances. It also serves to decrease viscosity, making beauty creams thinner and smoother so they leave a velvety consistency. Scientists and dermatologists debate the benefits of Butylene Glycol, as reported results are mixed, but it is agreed that those who are pregnant or wanting to become pregnant should avoid contact.
Ethylhexyl Methoxycinnamate
This chemical is a common active ingredient in modern sunscreens due to its ability to filter UV rays. It can absorb, reflect, or scatter UV rays, keeping skin safer in the sun. However, studies have shown that in too high concentrations, Ethylhexyl Methoxycinnamate can have an adverse reaction and create a volatile type of oxygen, which can cause cell mutations or even cell death. This product does not list the percentage of concentration, so it cannot be known how close or far it is from that dangerous line of reactivity.
Hydroxyethyl Acrylate/Sodium Acryloyldimethyl Taurate Copolymer
Incredibly easy to use in its liquid form, this compound is a gelling agent that thickens solutions. It also helps to stabilize products, so they keep the desired viscosity over time, keeping creams and shampoos and other beauty items shelf-stable for longer. Upon contact with the skin, it melts and leaves behind a slight tingling sensation and a velvety feeling, which adds to its popularity as a beauty cream additive.
Methylparaben
In nature, this chemical is actually an insect pheromone. In cosmetic use, it largely acts as a fungicide. In tests done on rats, it has been shown that large doses of Methylparaben mimic the activity of estrogen. While the USDA still recognizes parabens like Methylparaben safe for use in small doses, there has been an uproar of controversy. Countless studies have been done to show its lack of toxicity, and yet other studies indicated that it could react poorly with UVB and lead to premature skin aging. The paraben wars rage on, and while both sides have their arguments as to whether or not this ingredient is dangerous, it's still on consumer shelves.
Full List of Ingredients
Water (Agua), Lactic Acid, Butylene Glycol, Glycerin, Cetyl Alcohol, Isopropyl Palmitate, Steareth-21, Dimethicone, Mineral Oil, Ethylhexyl Methoxycinnamate, Stearyl Dimethicone, Steareth-2, Hydroxyethyl Acrylate/Sodium Acryloyldimethyl Taurate Copolymer, Isohexadecane, X, Magnesium Aluminum Silicate, Stearic Acid, Borago Officinalis Seed Oil, Fragrance (Fragrancia), Methylparaben, Hydroxyethylcellulose, Titanium Dioxide, Xanthan Gum, Dimethiconol, Disodium EDTA, Benzophenone-3, Propylparaben, Tocopheryl Acetate, Hydrolyzed Collagen, Phospholipids.
Directions: How to Use Pond's Rejuveness Anti-Wrinkle Cream
Pond's recommends first washing the face and neck with lukewarm water and mild soap. Then pat dry and apply a generous amount of product to the facial skin. It can also be applied to the neck. For sensitive skin, Pond's proclaims that a 10-15 minute wait after washing skin will help decrease the risk for inflammation. Upon rubbing in, the product will absorb immediately and the user will feel a tingling and tightening. If irritation occurs, stop use. Pond's advises that this product should not be used on, in, or around eyes or small children.
The Final Word on Pond's Rejuveness Anti-Wrinkle Cream
The reason this product is purchased so often is clear; it's there. It's in store shelves, right down the beauty aisle by the toothpaste and discount makeup. We walk past it every time we buy groceries or pick up something we forgot for the barbeque. It's inexpensive and seems credible at a glance, so we give it a try. And for most users, it does work at least a little. As a preventative or perhaps as a first foray into the world of wrinkle-wrestling and beauty products, it wouldn't be a terrible choice. However, it is certainly far from the best available for serious wrinkle repair.
For beauty tips and tricks in general, see our other articles right here on Let's Talk Beauty, and for information on our top rated products that combat wrinkles, see below.
What's better than Pond's Rejuveness?
Click Here
to See Our Top Rated Product
Advertising
Information researched for this content entails an unbiased opinion based on product specifications, overviews, and product information. If for any reason you think some of the information is not accurate, please feel free to contact us. We strive to bring only the most up to date facts so our readers are always correctly informed. Any trademarks, service-marks, and registered trademarks on our site are strictly the property of their respective owners.
Please be aware that the review charts do not encompass all available products on the market, but do comprise of some that we promote as affiliates. Also please note that in full compliance with FTC guidelines, you may assume that all links related to our review chart are considered an affiliate link and we may receive compensation for clicking on those links and making a purchase. However, it is extremely important for our readers to know that all editorial content disclosed on this page is written without any bias or prejudice regardless of affiliate associations or sponsorship. The opinions you read are strictly our own and we are independently owned as well.