Neutrogena Rapid Wrinkle Repair Line
The Neutrogena Rapid Wrinkle Repair system is a mix-and-match line of products which promise to help you reduce the visibility of your fine lines and wrinkles. You can choose from an assortment of six different creams, oils, serums, and moisturizers which all perform slightly different functions. You've got the option to choose between one, several, or all of the products in this line and incorporate them into your skin care regimen however you see fit. The price, affordability, efficacy, and results will largely depend on your own personal circumstances.
Neutrogena Rapid Wrinkle Repair Retinol Oil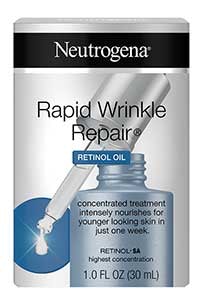 The Neutrogena Rapid Wrinkle Repair Retinol Oil promises to reduce stubborn fine lines and wrinkles thanks to the main ingredient, retinol SA. Neutrogena claims you can see results in as little as one week, and that this oil absorbs quickly into the skin for a lightweight feel. You may also start to see fewer age spots. For best results, the manufacturer suggests using this alongside the Neutrogena Rapid Wrinkle Repair regenerating cream.
The main ingredient, retinol SA, is unique to Neutrogena and to Neutrogena cosmetic products. It has been specifically patented by the company so that no other cosmetics manufacturers can use it. If you see retinol SA listed on the label of a product which is not sold by Neutrogena, it may be a lie or it may be a counterfeit product. The "SA" stands for "sustained action". The ingredient has been around since 2009. The company claims this particularly stable form of retinol continues working for a full 12 hours after you apply it to your skin.

A bottle of the rapid wrinkle repair retinol oil typically sells for about $25 to $30 a bottle, but prices may vary by retailer and/or region.
Neutrogena Rapid Wrinkle Repair Eye Cream
The star players of the Neutrogena Rapid Wrinkle Repair Eye Cream are the flagship main ingredients of the line: retinol SA, glucose complex, and hyaluronic acid. The manufacturer claims it can moisturize your skin throughout the day, keeping that fresh, youthful glow going strong from morning till night. This product specializes in the more troublesome symptoms of aging around the eyes which include wrinkles, fine lines, dark under-eye circles, stubborn crow's feet, and age spots. Like the retinol oil, Neutrogena promises you can see results in about a week.
Retinol SA seems to be a very effective solution to some people's wrinkle problems. But it comes with its own set of consequences, too. People sometimes report having problems with skin sensitivity issues when they switch from a product which uses regular retinol A to a Neutrogena product which contains retinol SA. This is because there is something unique about the retinol SA formula which causes it to penetrate the skin more deeply. Once it is there, it continues working for longer than most other retinol products. If you don't have very sensitive skin, then you may see some noticeable results.

As of this writing, the Neutrogena Rapid Wrinkle Repair eye cream retails for a little under $23 on the Neutrogena website – but supplies are currently sold out.
Neutrogena Rapid Wrinkle Repair Serum
The Neutrogena Rapid Wrinkle Repair serum isn't just a wrinkle fighting serum – it's an award-winning serum, too. Again, in about a week, customers can expect to see visible improvement in the look of age spots, fine lines, and wrinkles thanks to this lightweight, moisturizing serum. The active ingredients are retinol SA, hyaluronic acid, and glucose complex.
Hyaluronic acid is a potent moisturizer and is a very popular ingredient in most anti-wrinkle serums and creams. Some reports show that it can absorb up to 500 times its own weight in moisture and hold it there in your skin where you need it most. This moisture helps protect your skin cells from damage. When your cells are properly moisturized and healthy, you won't suffer as much of the collagen breakdown that causes the appearance of fine lines and wrinkles. That's why moisturizing is essential for making skin appear plump, firm, glowing, and youthful.
The glucose complex included in the formula is added in order to boost the effects of the retinol SA. But it's a little unclear exactly what this glucose complex is supposed to do, and we had a hard time finding information on its exact mechanism of action. The glucose complex included in most cosmetic products is typically derived from corn starch.
It retails for around $23 on the Neutrogena website, but you may find slightly different prices elsewhere.
Neutrogena Rapid Wrinkle Repair Moisturizer With Sunscreen
Are crows feet, cheek wrinkles, and forehead creases getting you down? If you want to see relief from these skin blemishes in about a week, then Neutrogena suggests you give their Rapid Wrinkle Repair Moisturizer with Sunscreen a try. They claim that the hyaluronic acid, glucose complex, and retinol SA (along with the product's other ingredients) will take care of your most stubborn symptoms of aging. To protect against future skin damage, the product includes a potent SPF 30.
Adding the SPF 30 was a good choice on Neutrogena's part. But they aren't adding it just because it's good for preventing future skin damage caused by excessive sun exposure. They also have to do it because of the retinol SA included in the formula. The downside of such a potent form of retinol increasing your cellular turnover for 12 hours a day is that it heightens your skin's sensitivity to sun exposure.
Even on a normal day, following the same routine you follow every day, your regular sun exposure could become too much for your skin. People who frequently use advanced retinol formulas on their skin sometimes report more skin irritation when they expose themselves to the sun. A strong SPF is a good way to prevent this. Frankly, we're a little surprised all of the products in this line don't have some form of SPF in them.
$23 seems to be the magic number for Neutrogena and the rapid wrinkle repair system, because that's about how much this moisturizing sunscreen costs, too. Again, prices may vary near you.
Neutrogena Rapid Wrinkle Repair Moisturizer Night Cream
Neutrogena touts their Rapid Wrinkle Repair Moisturizing Night Cream as the fastest of the bunch. 100% of the women tested claimed to have noticeable results in just one week using this cream on a nightly basis.
The unique formulation of glucose complex, hyaluronic acid, and retinol SA can apparently smooth out your fine lines and give you a brighter complexion – all while you sleep.
If you're particularly worried about any of the products in this line making your skin more sensitive to sun exposure, then the nighttime moisturizer might be your best option. The featured ingredients in the formula increase cellular turnover for about 12 hours, and since eight of those hours will be spent sleeping, you just have to time it correctly. Applying it earlier in the evening a few hours before bed after the sun goes down can give you the best benefits and minimize exposing your sensitive skin to the sun when it is the most vulnerable.
If you buy it directly from the Neutrogena website, it'll run you about $23. But you may be able to still buy it either through another online retailer or at your nearest drugstore for a different price.
Neutrogena Rapid Wrinkle Repair Regenerating Cream
If the $29 price tag is any indication, the Neutrogena Rapid Wrinkle Repair Regenerating Cream may pack a little bit more of a punch than the other complementary products in this line. It comes in both a regular and a fragrance-free flavor which gives you a little extra freedom of choice.
The cream contains accelerated retinol SA – the fastest acting retinol currently available over-the-counter – to encourage skin cell turnover for a more youthful complexion.
It's still a little unclear exactly what the accelerated version of this formula does that the regular retinol SA does not. But we have to assume based on the higher price tag that it must do something. If it is more potent than the regular retinol SA, then skin irritation might be another issue to worry about. If so, we strongly recommend going for the fragrance-free version of this formula. We also recommend using a daily moisturizer with SPF in it – whether you go with the Neutrogena one or a product from another company is up to you.
This product also carries with it the one week promise of results that you get with the rest of the rapid wrinkle repair line.
What Makes the Neutrogena Rapid Wrinkle Repair System Different from Other Product Lines?
Neutrogena seems to have gone out of its way to provide a line of anti-wrinkle products with a decent range and variety to it. If you only have one or two concerns when it comes to the healthy appearance of your skin, this regimen could be potentially affordable. It's also refreshing to see that it targets specific problems (like sun protection) and gives you options as to when and how to take care of your skin (like overnight with the night cream, for example). We've known for many years now that hyaluronic acid is a very powerful moisturizer, so it's nice to see it included as one of the main ingredients in the product line. As far as the other ingredients go, that's a little bit of a different story.
Neutrogena Rapid Wrinkle Repair: Are There Causes for Concern?
Adding one or two of these products to your skin care regimen might not be egregiously expensive – but if you're so eager to get those one week results that you decide to buy the whole line, it could cost you upwards of $130 or more. But at least you'll know sooner rather than later whether or not that major purchase was a bust!
Speaking of the one week promise, Neutrogena might be shooting themselves in the foot by making such a lofty claim. These products may very well make a significant difference for some people, but it will likely take their skin a little longer to bounce back and repair itself as drastically as they want it to in such a short amount of time. We can see thousands of frustrated women throwing their hands in the air (and these bottles in the trash) on day eight if they don't wake up and see the results they were promised in the mirror.
Lastly, let's talk about that main ingredient: retinol SA. Not all retinoids are created equal. In some formulas, just a little bit of the right kind of retinol is exactly what you need to refresh your skin and give yourself a more youthful appearance. But too much retinol – or too much of the wrong kind of retinol – can cause long-term damage by leaving you more vulnerable to things like UBA/UVB radiation exposure.
To learn more about each product in the Neutrogena Rapid Wrinkle Repair product line, click on a link below and visit the product review page:
What's better than Rapid Wrinkle Repair?
Click Here
to See Our Top Rated Product
Advertising
Information researched for this content entails an unbiased opinion based on product specifications, overviews, and product information. If for any reason you think some of the information is not accurate, please feel free to contact us. We strive to bring only the most up to date facts so our readers are always correctly informed. Any trademarks, service-marks, and registered trademarks on our site are strictly the property of their respective owners.
Please be aware that the review charts do not encompass all available products on the market, but do comprise of some that we promote as affiliates. Also please note that in full compliance with FTC guidelines, you may assume that all links related to our review chart are considered an affiliate link and we may receive compensation for clicking on those links and making a purchase. However, it is extremely important for our readers to know that all editorial content disclosed on this page is written without any bias or prejudice regardless of affiliate associations or sponsorship. The opinions you read are strictly our own and we are independently owned as well.