It's Skin Hyaluronic Acid Moisture Eye Cream
Is It's Skin's beauty only skin deep, or is there more beneath the surface?
It's Skin Hyaluronic Acid Moisture Eye Cream Overview
It's Skin adds a super intensive eye cream to their new line of Hyaluronic Acid products with this eye cream. This cream includes all-natural oils and extracts as well as top-of-the-line age-fighting power.
If you are looking to tighten up the area around your eyes, maybe reduce the look of fine wrinkles, and brighten the eye area in general, It's Skin promises this product is what you're looking for!
But can a small tube fulfil such a big promise? We took a deep dive inside to find out!
A Closer Look at It's Skin Hyaluronic Acid Moisture Eye Cream
At first glance, the ingredients list is a sizable paragraph. There is certainly a lot more than Hyaluronic Acid in this cream. While long ingredient lists are usually a signal that a product is chock full of additives and fillers, it can also be the case that instead, it really does contain a compacted version of powerful ingredients. With this cream, it's a rare case of the second. Though the list itself is a bit long, when you dig into those names, they're almost half fruit or plant extracts. Unfortunately, it's the rest of the list that's the problem, but more on that in a moment.
For under $20 per ounce, it isn't the most expensive beauty product on the shelf, but that's still a pretty penny to waste if you end up having a reaction to something synthetic in the formula. If there's a beauty store near you that stocks this cream, take the opportunity to try before you buy if at all possible. There are not a slew of reviews, but the few that exist are incredibly positive.
When applying product from small tubes, use only the tip of your finger, so as not to waste any on a sponge or Q-tip!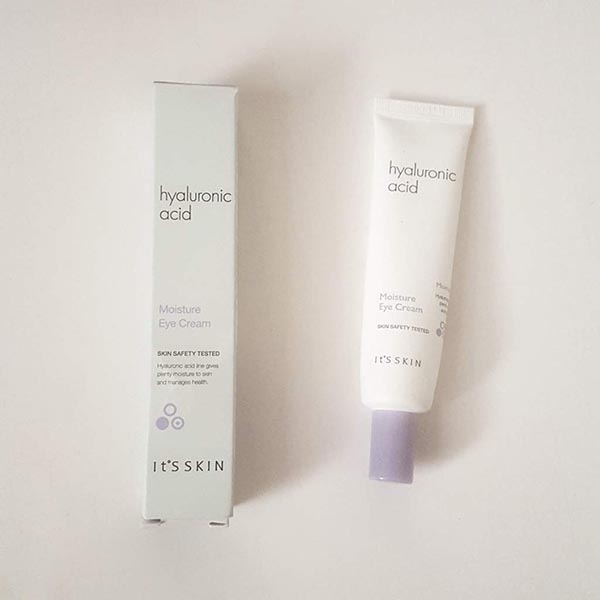 Positives
Contains industry-leading ingredients
Made with several all-natural essential oils and extracts
Not a huge financial investment to try
Negatives
Contains synthetic preservatives
Utilizes potentially toxic PEGs
Lack of reviews online or elsewhere
Includes mystery 'Fragrance' ingredient
Ingredients in It's Skin Hyaluronic Acid Moisture Eye Cream
While there are several useful extracts and best-working anti-agers, there are some glaring red flags about this formulation as well. The presence of PEGs is a big one, namely because it is still under investigation and ongoing testing for environmental toxicity. Also, the ingredient 'Fragrance' is essentially the mystery meat of the beauty industry, allowing companies to sneak in any chemical they please, so long as it has an aroma, even if it is not the predominant smell flavor.
COPTIS JAPONICA ROOT EXTRACT
More traditionally referred to as 'Japanese Goldthread', this traditional medicinal herb has been under study for the last decade or so in the US due to believed links with tempering subcutaneous fat deposits. If these prove true, this extract could be key in cosmetic anti-cellulite products as well. In Asia, it is already utilized for anti-inflammatory, antioxidant, and antimicrobial properties.
PORTULACA OLERACEA EXTRACT
This extract comes from a weed-like succulent plant called purslane. Purslane contains large amounts of natural Vitamin A, which is excellent for skin health. It is also an antioxidant, and rich as a source of vitamins C and E as well. It can contribute potassium, magnesium, calcium, and phosphorous as well as omega-3 fatty acids. It is classified as a superfood, and is quickly becoming popular in the beauty industry too. 1
MALPIGHIA EMARGINATA (ACEROLA) FRUIT EXTRACT
Hailing from South and Central America, this tropical fruit is also known as the Barbados cherry. It is an extraordinary source of antioxidants and vitamin C. When applied topically, the extract contains hydrating polysaccharides, which can help soften and smooth skin, leaving a much younger-looking appearance. The ripe fruit can also help prevent free radical damage on the skin.
PEG-40 HYDROGENATED CASTOR OIL
Amber-colored and viscous, this is most commonly included in beauty products as an emulsifier. While not considered to be an irritant or sensitizer, this oil can be comedogenic and also should not be used on broken skin. It is safe for topical use only because it does not get absorbed into the skin. However, clinical studies have revealed that PEGs can be harmful and potentially toxic to the environment. 2
ACRYLATES/C10-30 ALKYL ACRYLATE CROSSPOLYMER
This complicated molecule is usually shortened to AACP. This group of polymers can combine with water or oil, making the two opposing liquids into one homogenous solution. It's very useful in creams that have high oil content, or serums, when the mixing of multiple types of oil and are needed to mix with even a little bit of water.
Full List of Ingredients
WATER, SODIUM HYALURONATE, GLYCERIN, BUTYLENE GLYCOL, COPTIS JAPONICA ROOT EXTRACT, CYCLOPENTASILOXANE, DIMETHICONE, PEG/PPG-18/4 COPOLYMER, PEG-32, PORTULACA OLERACEA EXTRACT, TRIETHANOLAMINE, CARBOMER, MALPIGHIA EMARGINATA (ACEROLA) FRUIT EXTRACT, PEG-11 METHYL ETHER DIMETHICONE, PEG-40 HYDROGENATED CASTOR OIL, PPG-26-BUTETH-26, VACCINIUM ANGUSTIFOLIUM (BLUEBERRY) FRUIT EXTRACT, ETHYL HEXANEDIOL, POLYACRYLATE-13, POLYISOBUTENE, GLYCERYL CAPRYLATE, ACRYLATES/C10-30 ALKYL ACRYLATE CROSSPOLYMER, PORPHYRA YEZOENSIS EXTRACT, XANTHAN GUM, FRAGRANCE, POLYSORBATE 20, DISODIUM EDTA, HIBISCUS SABDARIFFA FLOWER EXTRACT
Directions: How to Use It's Skin Hyaluronic Acid Moisture Eye Cream
It's Skin advises that this Hyaluronic Acid Moisture Eye Cream is best performing when utilized alongside a full skincare regimen. Begin by cleansing your skin with lukewarm water and a mild soap or cleanser. Pat your face dry or allow to dry before applying any concentrate or serum. Next, use your fingertip to carefully dot around your eye area, focusing on the spots of most concern. Gently massage into your skin, and continue with the rest of your routine. Repeat at night if desired.
As always, please test any new beauty product on a small patch of non-critical skin first. Using the underside of your forearm, maybe, smear a small amount of product and wait 24 hours. If rash or irritation occurs, discontinue use immediately.
The Final Word on It's Skin Hyaluronic Acid Moisture Eye Cream
If you aren't concerned with artificial or synthetic preservatives, than this could potentially be a good choice to try. It's incredibly affordable, with overall satisfactory customer reviews. However, if you prefer completely safe and all-natural alternatives, we understand. We share that ambition as well, in fact, and have plenty of suggestions and recommendations.
Just check out our other articles on beauty and skin care!
References:
What's better than It's Skin Hyaluronic?
Click Here
to See Our Top Rated Product
Advertising
Information researched for this content entails an unbiased opinion based on product specifications, overviews, and product information. If for any reason you think some of the information is not accurate, please feel free to contact us. We strive to bring only the most up to date facts so our readers are always correctly informed. Any trademarks, service-marks, and registered trademarks on our site are strictly the property of their respective owners.
Please be aware that the review charts do not encompass all available products on the market, but do comprise of some that we promote as affiliates. Also please note that in full compliance with FTC guidelines, you may assume that all links related to our review chart are considered an affiliate link and we may receive compensation for clicking on those links and making a purchase. However, it is extremely important for our readers to know that all editorial content disclosed on this page is written without any bias or prejudice regardless of affiliate associations or sponsorship. The opinions you read are strictly our own and we are independently owned as well.