Dermagist Review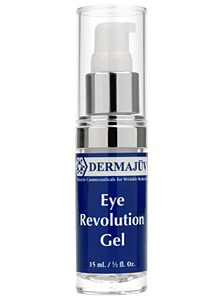 Benefits
Helps eliminate dark under-eye circles
Deflates puffy bags under your eyes
Reduces general swelling around the eye
Reduces the appearance of under-eye wrinkles and crow's feet
All data for this product review has been collected from independent tests of Dermagist. Individual results may vary and specific results are not guaranteed. All information herein is, to the best of our knowledge, accurate at the time of publication
Featured Ingredients
Matrixyl, Eyeliss, & Haloxyl – These three ingredients together have been proven effective at reducing inflammation and rejuvenating connective tissue development.

Fruit Stem Cells – Meant to mimic and encourage the growth of new, healthy skin tissue.
For a full list of ingredients click here
Water, Dimethicone, Matrixyl (Palmitoyl Pentapeptide-4), Haloxyl (Palmitoyl Oligopeptide and Palmitoyl Tetrapeptide-7), Eyeliss (Hesperidin Methyl Chalcone, Dipeptide-2, and Palmitoyl Tetrapeptide-7), Malus Domestica Fruit Cell Culture (Stem Cells) Extract, Acrylates Copolymer, Iodopropynyl Butylcarbamate, Phenoxyethanol, Caprylyl Glycol.
Side Effects and Directions
Individuals with sensitive skin are advised to conduct a patch test prior to use. If irritation occurs, discontinue use. Do not apply directly to your eye. If contact with the eye occurs, rinse thoroughly with water.
Use Dermagist Eye Revolution Gel once daily. Dab a small amount of gel around the eye until it is fully absorbed. For best results, use this product after washing your face but before applying makeup.
In-Depth Review
Dermagist Eye Revolution Gel works to minimize the three biggest signs of aging around the eyes: dark circles, puffiness, and wrinkles. It is said that 30 days of regular use can help you minimize these unsightly signs of premature aging around the eye.
On the one hand, the Dermagist Eye Revolution Gel (also sometimes known by the brand name "Dermajuv") seems like a product that might be worth trying. One of the main ingredients, Matrixyl, has been demonstrated to have anti-wrinkle and collagen-stimulating properties in independent clinical studies. This is important because it will help renew the skin around the eyes. The skin around the eyes is delicate and becomes even more delicate as we age, and is a main culprit behind dark circles and puffy eyes. Renewal of this skin is vital in preventing dark circle problems down the road.
If you haven't made up your mind yet about the Dermagist Eye Revolution Gel, you should head over to our Review chart to see how it stacks up against its competitors!
All data for this product review has been collected from independent tests of Dermagist. Individual results may vary and specific results are not guaranteed. All information herein is, to the best of our knowledge, accurate at the time of publication
What's better than Dermagist?
Click Here
to See Our Top Rated Product
Advertising
Information researched for this content entails an unbiased opinion based on product specifications, overviews, and product information. If for any reason you think some of the information is not accurate, please feel free to contact us. We strive to bring only the most up to date facts so our readers are always correctly informed. Any trademarks, service-marks, and registered trademarks on our site are strictly the property of their respective owners.
Please be aware that the review charts do not encompass all available products on the market, but do comprise of some that we promote as affiliates. Also please note that in full compliance with FTC guidelines, you may assume that all links related to our review chart are considered an affiliate link and we may receive compensation for clicking on those links and making a purchase. However, it is extremely important for our readers to know that all editorial content disclosed on this page is written without any bias or prejudice regardless of affiliate associations or sponsorship. The opinions you read are strictly our own and we are independently owned as well.